What potential do medical apps have? What are the possibilities?
There is a whole range of tools available for real-time 3D applications. Depending on the target platform and the performance range of the application, an implementation using e.g. WebGL/HTML5, Unity3D, Unreal, SceneKit etc. is possible.
For product presentation on the Internet or also for training and information purposes, interactive applications offer interesting possibilities. Through the integration of WebGL in current browsers, three-dimensional models can also be displayed without an additional plugin.
The use of apps on iPads or other tablets can be a valuable tool for the sales representative to communicate as much content as possible in a very short time and to deliver the key messages in a clear and vivid way.
Trade show apps and games
Medical apps can be extremely helpful in guiding visitors to your stand at trade fairs and medical congresses and keeping them there. The possibilities here range from the use of touch terminals running a special application to interactive competitions on the big screen, which are controlled by using motion capturing or special input devices.
The buzzword "augmented reality" (AR) refers to a combination of a filmed image and a real-time 3D object. One possible application is, for example, the use of an Ipad app that films a marker on a brochure or business card with the help of the built-in camera. The screen of the device shows the filmed scene, but a virtual 3D object appears above the marker. The movement of the Ipad is used for navigation, which allows a very natural interaction with the object.
In the field of virtual reality (VR), a whole range of devices are now available. All these systems show the user a virtual scene generated in real time, in the center of which the viewer is located. The possibility of interacting with the surrounding scene further enhances the "immersion", i.e. the immersion of a virtual world in a human body. For medical VR applications, spatial (stereoscopic) vision within the app is another interesting aspect.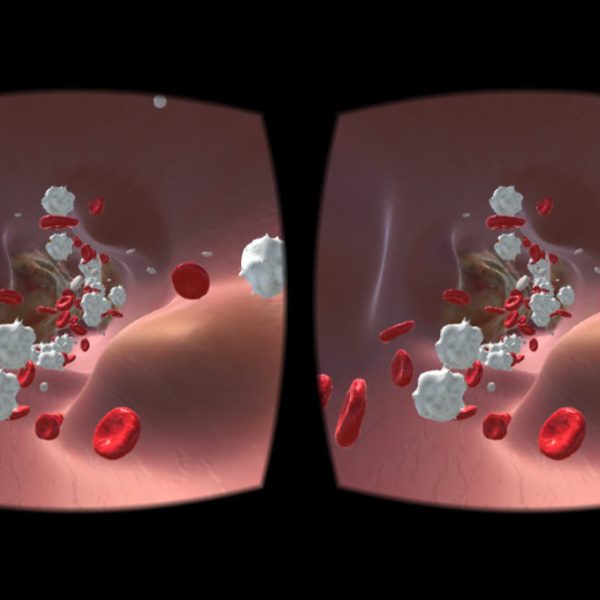 3D content can also be used in therapy and prevention. The example on the right shows a project for post-stroke care. In order to reduce falls and injuries due to limited mobility, the patient is specifically trained with the help of software. The patient can check his movements by a 3D figure on the screen, which is synchronized to his own body movement. The character gives him feedback when exercises are performed incorrectly and incompletely.